'The Home' arrangement combines some of our favourite ingredients from our dried flower collection and fresh flower bouquets to bring you our craziest arrangement to date.  'The Home' features all of LK Verdant's qualities: wild & uncontrollable. 'The Focus' comes comes in it's own vase with on trend pampas, twigs, wax flowers, roses and our favourite cotton bolls.
Our philosophy means that no two flower bouquets are the same, so each is truly unique and bespoke. Check out our Instagram feed for more examples of our quirky take on flowers.
Availability
Flowers are subject to change due to seasonal availability and as such your order may vary. LK VERDANT will provide an equal or greater value replacement for the out of season flowers without notice
Our Expert Florist is featured in
Reviews
Customer Reviews
10/17/2020
Sameerah M.

United Kingdom
Pictures don't do it justice
If you're looking at the pictures and thinking "wow, so pretty", let me tell you that the flower arrangements are even better when you see it in person! Beautiful arrangement, and the best customer service! Definitely did not disappoint.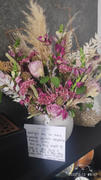 04/17/2020
Zainab N.

GB
Perfect :ok_hand::skin-tone-3:
So we ordered from the home due to the current pandemic what we had ordered would have to be tweaked so LK called and explained I told her to do what she was best at and woooowwww as always she delivered the flowers are beautiful they are perfect :hearts:️ Thank you once again x
04/13/2020
Nuaima A.

GB
Perfect Gift
Extremely pleased with the purchase. Stunning flowers which were loved by all! Thank you
Care Instructions
Refer to the care guide included with your LKV's
Delivery
Complimentary Delivery
Delivered within one hour of dispatch notification
Need a hand?
We're always about to give you as much info as you need, please don't hesitate to contact us.